One day I saw a tree and decided to make a pun about it. That's basically how all of my pun lists come about, but in this case something special happened, and you'll see why as you browse through the puns.These tree puns will be great for landscapers, lumberjacks, and tree maintenance people. If you have a friend that fits into one of those categories, feel free to print off this page and give it to them as a gift!
My tendency to shout out puns when I see trees is an interesting thing to say the least. I'm pretty sure this is a disorder that I need therapy to correct, or I have the dumbest super power known to man. Either way, I made all of these myself, with the help of some stock images and my imagination. So grab a cup of coffee and start reading! Without further dew, let me leaf 10 tree puns here for you. 
1.
Let's start off with this super obnoxious t-shirt. We stuffed as many tree puns as possible into this one statement. Hopefully you'll be able to find all 5 puns. If you don't, be sure to respond to this post and we'll help you out. Also, note you can buy this tree pun as a t-shirt. Go
purchase it here
.
[cta id="406″ align="none"]
2.
Most people don't realize this, but the old phrase 'He's barking up the wrong tree' has a pun built in because the word bark has two meanings. This wasn't the best pun I put together, but when I realized that the old phrase had a pun, I thought it was pretty funny.
3.
Here is a fun political tree pun. I only used the name Bush because it is plant-related, not to reference any actual politician.
4.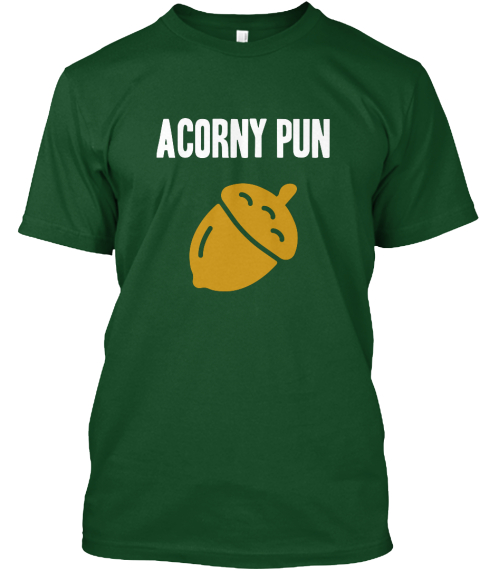 This is acorny tree pun joke, about as simple as it can get. This one's buyable as well. You can
buy this tree pun.
.
5.
Photosynthesis pun. I'm rooting for you to get this pun. Bonus points if you are a fan of Spongebob.
6.
This leaf pun is a bit passive aggressive I'd say. Someone has been treeting this leaf wrong.
7.
This pun is sad for Canada and pancake lovers. Maple trees do not deserve this sort of negative publicity.
8.
I'm not kitten you on this pun. Aren't you re-leafed I included this classic pun?
9.
This may be the simplest, yet nerdiest tree pun I included in this list. It also happens to be a true statement because trees tend to produce sticks.
10.
My relationship with this pun is pure chemistree. I did indeed involve a math pun and a chemistry pun one after another in this list, so you can tell that puns and being a nerd tend to go together.
Hopefully you enjoyed this list of puns. If you have an idea for a pun category, you can do the same exact thing as I did in this article and make some money for it. Just post your own list in the "puns" forum.